Sydney 1-39 points $2.35 (TAB, Pinnacle, Sportsbet) LOSS
Hawthorn v Fremantle Total Under 197.5 $1.91 Bet365 WON
Collingwood ML $2.01 pinnacle WON
Carlton +18.5 $1.93 Bet365 WON
GCS/Port Tribet Either Under 15.5 points $2.85 TAB LOSSSportsbet
North Melbourne First half line -10.5 $1.90 WON
North Melbourne First quarter line -5.5 $1.90 WON
Round 4 Tips:
SYDNEY
HAWTHORN
COLLINGWOOD
ESSENDON
GOLD COAST
WEST COAST
MELBOURNE
ADELAIDE
NORTH MELBOURNE
Game Previews
Sydney v Geelong
SCG: Friday 19th April 7:40pm AEDST
(NOTE: HISTORY TABLES DO NOT INCLUDE FINALS MATCHES THIS WEEK – UPDATING DATABASE AT PRESENT)
Geelong are 8-2 SU and ATS against the Swans gonig back to 2008. The Swans however have won 2 of the last 3. When we look at games played at the SCG though, we only have 6 games back to 2003 (1 final) Sydney hold a 5-1 SU and 2-4 ATS record in that time, including a win but ATS loss in the game last year where a Swans player missed a shot on goal from the goal square that would have covered for Sydney backers.
I like the Swans here. There are a few factors.
One is the Swans home field advantage. They have won 16 of their last 20 at home (80%) and that extends back having won 35 of their last 45 and 61 of their last 60 at the SCG.
That is a long term 75+% what ever what you look at it.
The Swans were fantastic in disposing of the Kangaroos last week. 15 goals to 6 after half time was commanding. They dominated inside 50s, Contested Possessions and matched the Roos in the Clearances department (North are #2 here). Sydney is #1 in Contested Possession to Geelongs #10 Sydney #3 in Clearances to Geelongs #18 Sydney #3 in Stoppages compared to the Cats #18.
It does show that the Cats are good. They can win games without relying on clearances and contested possessions, which for most teams is the recipe for success. Sydney are a much better team than North or Carlton though. In a game where showers and wind is forecast, contested possessions, clearances and winning the stoppages become even more vital to generating inside 50s.
The Cats have come from 30 odd points behind to beat the Hawks and over 40 points down to beat the Roos. They trailed for most of the first half against Carlton (a team without a key forward and a very suspect defence) I don't rate North that highly and Carltons midfield aside, they are struggling. Both struggle to defend. The Hawks win was phenomenal though – Sydney are a much tougher match up, they have key position defenders unlike the Hawks.
A massive factor here is that Geelong are on a 6 day break for the 3rd consecutive game. They are playing their 4th game in 18 days. This is something that does not happen very often. Since 1985 this has occurred just 17 times, with the team playing on a 6 day break for the 3rd consecutive week being just 4-13 SU. No team has ever won all 3 games in a back to back to back sequence. My database goes back 10 years and in that time 5 teams have been shouldered with the same sequence, being 0-5 SU and 1-4 ATS.
In 2012 faves up to 11.5 points covered 30 of 45 games. in 26 of 45 the fave would have collected on a 1-39 margin bet. In 2013 already 5 of 9 faves up to 11.5 points have won by margins less than 40 points. Geelong have lost just 4 games by more than 39.5 points in their past 117 matches. Sydney just win at home. The Margin bet represents the value here.
Tip:Sydney
Betting Advice:Sydney 1-39 $2.35
Hawthorn v Fremantle
Aurora Stadium: Saturday 20th April 1:45pm AEDST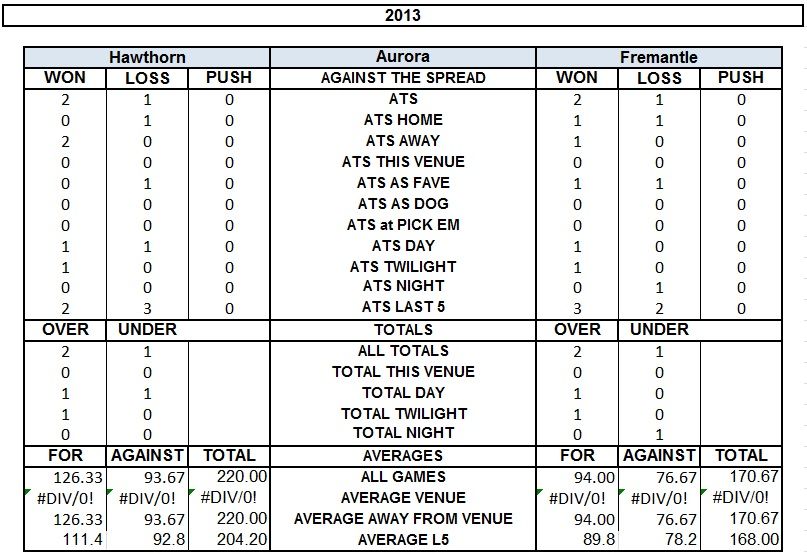 The way Hawthorn played in the first half against Geelong and in their subsequent two games it would appear the 2013 model is very similar to the 2012 model. Freo have been defensive beasts now since mid 2012. Their coach is usually high predictable and if there is one thing in sports handicapping that I love its predictability. The Hawks defence can leak points at times, but they still ranked #3 in 2012 – Freo were #2.
I think Hawthorn win this match. After their big win last week against the Pies their could be a small let down, but they are not the sort of team to let a win get in the way of progress. Freos loss last week may have been devastating to them. It all fell apart. Essendon brought pressure in the second half and their hard running was able to undo Freos usually tackling/pressure game. Hawthorn can bring pressure and not many teams run hard and fast and spread as wide as they do.
I am sure though that Freo will approach this one with a typical Ross Lyon shut down game plan. They have to stop the Hawks run, they cant match it. but like they found last week, no team can maintain intensity for ling periods of time. What the intensity does though is limit scoring.
Last year regardless of the bookmaker Total Fremantle games had an aggregate of 185 total points or less on 18 of 24 occasions. 19 of 24 totalled 193 points or less. Only 5 Fremantle games last year had greater than 193 points and two were at Etihad, Two were against Adelaide.
Since 2007, Lyon has coached 71 matches at venues other than Etihad, going 52-19 (73.2%) to the Under.
Average closing total = 173.1
Median closing total = 171.5
Average Total Pts = 158.5
Median Total Pts = 171.5
Just 5 of those 71 games have gone over 195 total, just two closing totals over 192.
Last year in the Hawthorn vs Freo game which was at this venue, there was a closing total of 172.5 and 182 points were scored. The Total when the Hawks played the similarly defensive Sydney at Aurora closed at 175.5 and 175 were scored.
Ross Lyons 71 games as coach away from Etihad have resulted in a 28-42 ATS record and a 20-37 ATS record when you exclude Freo home games since he became coach at start 2012.
I think the Hawks probably win this 20-40 points, however I dont think the line or the 1-40 margin bet hold any real value here given the Hawks ability to score rapidly.
It is a tough spot for opposition teams to come and play. In Freos last two games here they managed 39 and 63 points. Last year the Hawks won by almost 10 goals and the total score was still only 182 points. In 2012 Hawthorns average score at the Venue was 116 while the average points against was 69 and the average total points 185.
Tip:Hawthorn
Betting Advice: Bet Total Under 197.5 advised Tuesday. I still think there is value in taking under on any total down to 190.5
Richmond v Collingwood
MCG: Saturday 19th April 2:10pm AEDST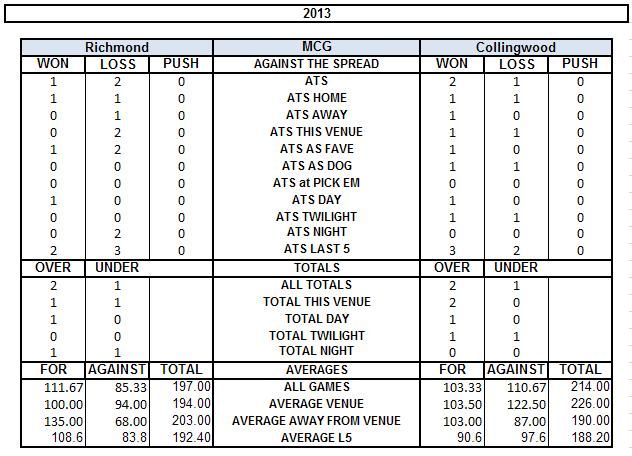 Since 2007 the Pies have dominated the Tigers with a 6-1 SU and 5-2 ATS record. Collingwood have won the last 5 straight by margins of 21, 71, 82, 92 and 44 points.
We see one team dominate the other quite often in the AFL. Some teams just have it over others, be it style or substance, it can be tough to overcome.
Collingwood go in to this after a smashing by Hawthorn. But that is nothing new. Last yeat the pies were convincingly beaten by the Hawks three times. They responded with 3 wins and a 2-1 ATS record. Coincidentally they did not cover a 34.5 point line against the Tigers in Round 2 but ran out 21 point winners.
Looking at form a little closer, the Tigers scraped home in round 1 giving up a big lead to the Blues (should have lost if Yarran kicks straight from 15m out with a minute or so to go), had their moments but ultimately beat a sliding St Kilda in Round 2 and then whacked the Dogs last week. Collingwood beat North Melbourne in Round 1 by 16 points and led by as much as 36 in the last quarter, They beat Carlton by 17 points in Round 2 (32 shots on goal to 25) then were well beaten by a 2nd half Hawthorn onslaught. Richmond closed as a 0.5 point favourite against the Blues in Round 1. Collingwood closed as a 15.5 point fave against the blues in Round 2. Both covered the line by a few points. Here lies the disparity. Hype and Perception. Before last round the look ahead money line for this game was Collingwood $1.70. Collingwood got well beaten as expected, Richmond beat a hapless Western Bulldogs senseless last week. No real surprise in either. Should the market have changed so much?
Collingwood do have some injuries, they are missing Beams in the midfield providing the clearances and contested possessions. Darren Jolly out certainly hurts against a rampaging Maric. However the Pies have structure, They have forwards that are a much better calibre than the non existent Blues or Bulldogs forward lines, and certainly one that will trouble the Tigers more than the Saints did as the inside 50 frequency will be much higher. The Pies had 64 i50s to 55 against the Blues, Richmond had 60 to 58. The Tigers backs have looked good but have yet to face a team that has both a good midfield and a good forward line. Collingwood provide that.
Collingwood will be super keen to bounce back here – it is something they do very well.
Collingwood 20-4 SU post loss since start 2009 including 8-2 last 10 and 13-2 last 15
Collingwood 19-5 ATS post loss since start 2009 including 6-4 last 10 and 10-5 last 15.
In games where the Pies have closed +6 to -6
11-6 SU and ATS when line +6<>-6 since start 2009
4-3 SU and 3-4 ATS when line +6<>-6 since start 2012
As small faves they go well. Collingwood as pk to 10 point faves are 17-7 SU and 16-8 ATS sicne the start of 2007 (after i wrote this Richmond became faves)
There does not seem to be much look ahead regarding the Anzac Day clash against the Bombers next Thursday – 4-1 SU and 3-2 ATS last 5 years pre Anzac Day.
The Tigers? Expectation often get to Richmond. The sleeping giant is 1-6 SU and ATS since he start of 2008 when they have won 3 in a row.
This one is a case of market perception. The AFL hype train is all on the Tigers at the moment. Collingwood are still a very very good team. They should be fave, I don't think the market is giving a quality team the respect they deserve.
Tip: Collingwood
Betting Advice: Collingwood ML $2.01
StKilda v Essendon
Etihad: Saturday 19th April 4:40pm AEDST
Essendon has a 5-1 SU and ATS record over the saints since 2009 with the Saints only win and cover in that period coming last year.
I don't like this game. The Dons have been great in the first three rounds with wins of two of last years finalists and a huge win over the Demons. St Kilda lost to the Suns and the Tigers, with a win over GWS.
Im wary of a few things here. One is the Essendon hype. They are up, they come off some big performances and maybe over valued by the market, however they do look good. They are really tough to get an accurate read on. The Saints have been poor, but how poor? They have been poor away from Etihad for a number of years now on average around 25-30 points. Their performance against the Tigers was commendable, against the Suns not so. The Saints have a number of injuries as well.
I would rather watch this one, it may tell us a fair bit about both teams.
Tip:Essendon
Betting Advice:None
West Coast v Carlton
Subiaco: Saturday 19th April 7:40pm AEDST
West Coast are 8-5 SU but 6-7 ATS in the past decade against the Blues. Carlton have a good ATS record in Subiaco, going 2-2 SU and 4-0 ATS in the last 5 years and being 2-4 SU but 5-1 ATS their last 6 games in the West. West Coast have won the last 3, Carlton the 4 before that, and west coast the 4 prior.
The Blues are in a must win situation, however the Eagles are just warming up after dropping their first two. West Coasts second half last week against the hapless Melbourne team was something to behold. Carlton will trouble the Eagles in the midfield, but outside that it gets tricky for the Blues. A poor defence and forward line not helped by injuries will make it tough to score. They are really going to have to shut the Eagles midfield down and dominate to be a chance. The Eagles did allow Melbourne 13 goals (18 scoring shots) and were opened up by the Hawks and Dockers.
Mick Malthouse has been one of the best road coaches (interstate) in the AFL. As Eagles and Collingwood Coach Malthouse has a 93-80-2 SU record. That is a long term win record on the road greater than 50% in an area that interstate teams have been very very strong in. At Collingwood it is even more impressive with a 2000-11 interstate record of 30-21 SU. My Database goes back to 2003 and from 2003-2011 at Collingwood Mick was 25-11 ATS when playing intertate and 18-5 ATS as a dog interstate. Phenomenal numbers.
Im not sure what he has done that gets his team up on the road, however it has been a consistent thing. Did he bring some of the scheduling or itinerary from his time at the Eagles (travelling ever second week) to Collingwood and it proved extremely successful because of les travel?
Im not sure. But he has a fantastic record. We add in the Blues record at this Venue (5-3 SU and 8-0 ATS last 8 and 5-7 SU but 10-2 ATS since 2006 at Subiaco) and against the Eagles and I think the market might be a little to far in the Eagles favour.
When we look at Carlton in Twilight and Night games and exclude Etihad data (their kryptonite under Ratten) the Blues have gone 19-7 SU and 21-7 ATS since the start of 2010. In the Same period the Eagles are 12-15 SU and 10-17 ATS. In their last 15 home games played Night/Twlight the Eagles are 6-9 ATS.
Carlton played well against the Cats leading for much of the fist half but were eventually overwhelmed. It was 58 i50s and 29 shots by the Cats to 55 i50s and 28 shots on goal by Carlton – at a venue that they have historically been poor at. The Week prior the Blues played well Agaisnt the pies leading for most of the game before giving up the lead in the final quarter and in Round 1 they just went down to the Tigers. West Coast had a very ordinary first half against melbourne. If they bring that form they will lose. Melbourne brought no pressure. Carlton will. Hawthorn and Freo brought a significant amount of pressure to the Eagles and they broke down going forward.
That is why the Blues will keep it close. Their Mids can get on top of West Coasts, their Defenders are serviceable and Carltons no name forward line has managed 100+ points in all 3 games, against 3 form teams.
Carlton will go close here, West Coast to pinch it late, but value in the Blues.
Tip:West Coast
Betting Advice: Carlton +18.5 $1.93 (+19.5 with a few UK books, but I'll stick with recommending the standard ones)
Gold Coast v Port Adelaide
Metricon: Saturday 19th April 7:40pm AEDST
I think the Suns are one of the most undervalued teams in the competition. They have started the season 1-2 but are 3-0 ATS. At home this young side is very diffuclt to play. They have won 3 of their last 4 at home (GWS, Carlton and St Kilda) and have a 2 point loss to the Lions last week. The Suns are a phenomenal 9-3 ATS in their last 12 home games, 9-4 ATS since start of 2012. Then Playing Twilight or Night games they are 8-2 ATS in their 10. To highlihght their competitiveness, in the last 8 home games they have 3 wins, 5 losses but have only been beaten by >14 points once. (sydney R18 2012). That includes very close losses to North, Geelong and Brisbane x 2.
Port have been very good, their win against Melbourne gave them confidence but Melbourne are rubbish. The took their time to get past GWS though and had a big last quarter to blow the margin out. The Power can always get up for the Crows and they were impressive as the Crows were disappointing last week, overcoming a 30 point deficit to win by 9 points. Statistically there was not a much in the Power/Crows game, just as there was not in the Brisbane/Crows game the week prior. Brisbane had more shots on goal than the crows, led in the last quarter and lost. Either of those games could have gone either way. The Lions just pipped the Suns last week. Power travel interstate after back to back home games to play a young hungry suns team after winning their biggest game in a while.
"I really dont think that there is much in this one. Ports wins against the Dees and Giants were good but not a great measure. Their win over the Crows shows a lot more. The Suns beat St Kilda (worth more than any win over the Dees or Giants) Stuck with Sydney for three quarters of a game (we saw what Sydney did to North last week) then just could not quite beat the Lions. The Saints who they beat in Round 1 smashed GWS last week, which gives us a line on Port.
I dont think there is much in this one, especially at Metricon. I would have made Port slight faves, probably no more than a goal.
Value sits with the Suns here. I think this will be a cracking game. I like the tribet option again here. The line of 13.5 implies at a rudimentary level that 50% of the time the Power win by 14+ points and 50% of the time the Suns win or the power win by less than 14. However I think that with the line being too high a more likely scenario is that the game ends up with either side winning by under 15.5 points. I think that is about a 50% chance. I make that $2.00 – therefore the Either Team under 15.5 points tribet is a great option.
Tip:Suns in an upset
Betting Advice:Suns/Power tribet Either Under 15.5 points $2.85 TAB Sportsbet
Melbourne v GWS
MCG: Sunday 20th April 1:10pm AEDST
>Betting Advice:None
I cant see much value here. Melbourne should win. They are better. GWS has a number of talls out. However Melbourne are horrid. I would not give them my money.
I considered a 1st quarter or half bet but I just dont want to touch them. The Giants could see this as their chance. THey have been competitive at times this year and they could trouble the Dees.
>Betting Advice:None
I want no part in betting this, but if Melbourne dont win, they are in big big trouble.
Tip:Melbourne
Betting Advice:None
Adelaide v Western Bulldogs
AAMI: Sunday 20th April 3:15pm AEDST
Adelaide were good for three quarters against the Power last week, then the wheels fell off. They have a lot of quality, however seem to be struggling to convert inside 50s to goals and are allowing other teams to score on them too easily. THe Power and Essendon troubled them with run, Brisbane likewise.
The Dogs can win the contested ball here and make life tough for them, however pace hurts them – Richmond destroyed them last week.
Adelaide should bounce back, but i think this line is about right. Its too high to bet the Crows and not quite high enough to take the risk on the Bulldogs.
Tip:Adelaide
Betting Advice:None
North Melbourne v Brisbane
Etihad: Sunday 20th April 4:40pm AEDST
North and Brisbane have split the last 10 games 5-5 with the Lions having a 6-4 ATS advantage. North have won 3 of the last 5 but the Lions lead the ATS 3-2. North ahve won the last 3 at Etihad (2-1 ATS). The Lions are 2-8 SU and 3-7 ATS in their last 15 at Etihad stadium. North are 10-5 SU and 8-7 ATS in their last 15 games at Etihad.
North Melbourne have been fantastic – in first halves. Last week they led 2012 premiers Sydney by 14 points at Half Time. The Week prior they led Geelong by 35 points at Half time. In Round 1 they trailed Collingwood by 2 points at Half Time. They are 0-3 but have played 3 perennial finalists and all excellent teams. Their second halves have been horrible. Absolutely deplorable.
The pre season hype bubble on the Lions is about to burst I think. Belted by the Bulldogs in Round 1, Competitive with a disapointing Crows in Round 2 and then having to fight for a win against the Suns last week, It would seem that the Lions went all out in the pre season and were far ahead of everyone else. Their run and carry was excellent.
They are back in the pack now. North are good, They have been very competitive against 3 quality oponents. If they could run out a game this line would be mid 30s. This is a big drop in class. As it stands I would be keen to back the Roos line here but their fade outs are really worrying. Is it fitness? Gameplan? Im not sure at this point. What I do know is that at 0-3 their season is in big trouble here. They have to win if they are going to play finals. They will go into this full bore and if they can replicate what they have done the last 3 games against much better opponents than the Lions, they should lead by a big margin at half time.
The Half Time line is the value here. I cant say the full game line holds any value because on what we have seen the Roos are untrustworthy. A 10 goal win would not surprise.
Rather than go 2 units on the 1H line, I am adding a 1st quarter line bet here.
Roos this year 3-0 ATS and SU in 1Q. Lions 1-1-1. In 2012 the Roos led 6+ points at 1Q at Etihad in 8 of 13 games. When playing against interstate clubs at Etihad led by 16, 20 & 22. trailed Freo by 15. The form lines are taking shape. Carlton beat the Eagles last night coming off losses to the Tigers, Collingood and Geelong and very competitive in all 3 losses – they were good in every game. North are 0-3 with losses to the Cats, Swans and Collingwood. Form teams. Brisbane off losses to Adelaide and the Bulldogs and scraped by against the Suns who were beaten at home last night.
So i like the 1st Q line as well.
Tip:North Melbourne
Betting Advice:North Melbourne -10.5 First Half & North Melbourne -5.5 1st quarter
Twitter
Follow us on Twitter (click on these links)
@DownIsTheNewUp_  (Dr Matt – AFL & NFL)
@RTP_AFL (AFL Subscribers)
@readingtheplay  (MrG – NRL)
@RTP_NRL_Betting (NRL Subscribers)
@BrisburghPhil  (Phil – Horse Racing)
@RTP_HorseRacing  (Horse Racing)
@RTP_NFL  (NFL)
www.readingtheplay.com
©Copyright Reading The Play  All care taken. No responsibility accepted. Please check all information at your own discretion. Any prices quoted for suggested bets are accurate at the time of writing. For personal use ONLY. This information may not be reproduced in any way whatsoever or re-used for any purpose whatsoever without the prior written permission of Reading The Play.
AFL Tips, AFL Selections, AFL Previews, AFL Betting